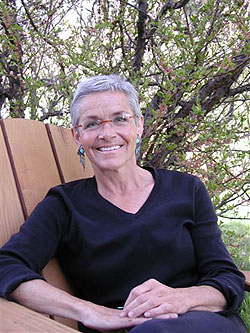 Chris Chapman - Designer
Biography
In 1987 Chris Chapman moved from Minnesota to the mountains of Colorado, 700 feet above the Roaring Fork Valley outside of Aspen- and she knew she'd come home. "I am surrounded by nature: a cacophony of birds and wildlife, mountains and ranches, deep valleys and wide open high mountain pastures, sagebrush and trees."
A leather craftsman since 1970, Chris has spent years doing historical research and reproduction work dating as far back as the 16th century. Since 1974 she has created museum quality reproductions of European, Early American and Native American garments and artifacts, including bead and quill work. Her Scottish grandfather gave her a sewing machine at age 5. "I have been a maker of things my whole life".
The birth of Chris' daughter in 1991 inspired a monumental change of direction in her work. She invented many new techniques in leatherwork and began creating leather-bonded furniture that is now recognized the world over. "It all came together" she said: A lifelong artistic background, decades of leatherwork, historical research, fabricating reproduction items that incorporated pure historical techniques, working on remodels of cabins and homes in MN, and renovating old mansions in Minneapolis: it all contributes to designing and building exceptional free standing and architectural furniture, that now grace homes, ranches and lodges across the globe, in Montana, Jackson (WY), Aspen/Vail, Texas, and Dubai, to mention a few.
Chris' work is the gold standard for custom architectural leather work. Often imitated, nothing compares to what she can create and accomplish-from enormous armoires, tables and mirrors, to built-in bars, cabinetry, and leather braided hand rail.
Some techniques are similar to repose metal work: the leather is molded over shapes, sometimes "bumped up" from underneath, with surface detail applied. "I find the medium incredibly versatile. Though I specialize in classic Western, I am versatile in many other styles - Victorian, Spanish Territorial, Old English, Black Forest, and Contemporary - so far there is nothing I haven't been able to do and do it well". Chris loves experimenting with color, texture/distressing, and patina.
Nature scenes with animals-realistic Western to European folk art-has been of particular interest to Chris in the past few years. "This work gets me outside, brings me back to nature and connects me to a life gone by-I think those qualities have the same appeal to my clients".
Everyone loves the look and feel of leather, but in the end, the most important thing is a very satisfied client. To accomplish that "I have my own superior team of furniture makers and ornamental metal workers to complete any project, or I can work with others. My best skills are not only in design and leatherwork-I like to be brought into a project on the ground floor-to collaborate and plan with architects, interior designers, and general contractors to get the vision for the client. Then coordinate with the subcontractors on site, to complete projects in an organized, respectful, and timely manner".