Cowboy Chic
Western Style Comes Home
by Chase Reynolds Ewald
A Beautiful Coffee Table book!
Chris's King Bed is featured on the front cover;
These designs are on the back cover: Armoire, Mirror & Side Table, and Bar.
More furniture designs are featured on pages 25, 76, 77, 97, 105 107.
Price $45.00 total: $40 plus $5 shipping & handling;
Click images for a larger view.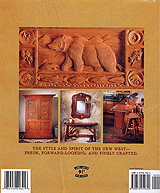 Back Cover